DRAGON MODEL
Brača Dragon paddles comply with the IDBF Paddle Specification 202a and are licensed or approved for competition use under the IDBF Governing Bodies Standard Racing Paddle Approval Scheme.
Brača Dragon paddles are authorized for use in championship events, and all formal Sport Racing competitions, that is, those races held under the Competition Regulations and Racing Rules of the IDBF and its Members, and for any kind of informal competition, training or general dragon boating.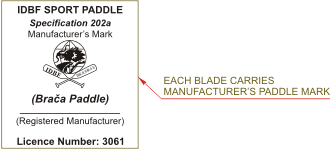 Adjustable Shaft System
All Brača Dragon paddles are available with a fixed shaft or a Plastic I. Adjustable Shaft System. This allows elegant adjustment of overall paddle length (within 5cm range). The system also allows you to disassemble the paddle into two parts for easy transportation.
New Matte Shaft Option
The Brača Dragon paddles can also be ordered with the new matte shafts. Brača-Sport developed a special finishing process to give these shafts an elegant, exclusive look and feel, which also harmonizes well with the available carbon handles.
IMPORTANT!
Always clean your adjustable shaft regularly!
When used in saltwater conditions, clean with freshwater after each use, otherwise disassemble and clean every three days. Store your adjustable paddle disassembled if not used for more than two weeks!
See the
maintenance page
for details.
Shaft Stiffness Measurement Process

Available Options and Technical Parameters:
Blade
Shaft
Carbon Content
Total
Weight
(g/oz)
Surface area
(cm2/in2)
Length
(cm)
Width
(cm)
Stiffness*
(mm)
Diameter
(mm)
Blade
(%)
Shaft
(%)
Brača Dragon
specified by IDBF
Licence number: 3061
Normal
2.8-3.0

Hard
2.5-2.6
29.5


30

100


100

100


100

360/12.7


360/12.7

Brača Dragon Slim
Extra Light
specified by IDBF
Licence number: 3062
2.7-2.9
26
100
100
320/11.3
* Recommended stiffness.