CANOE POLO MODEL
Brača Polo Kinetic has unique non-slip bands on the blades to enable extra control when handling the ball. It is ideally suited for offensive play with excellent sprint characteristics and ball control. Because of the nature of their use, these paddles are made from highly impact resistant materials and are available with a fixed (non-adjustable) shaft.
The blade has an impact resistant edge all around and is flled with a CNC machined special foam core. It meets all ICF rules and regulations.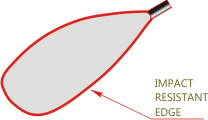 Shaft Stiffness Measurement Process

Available Options and Technical Parameters:
  
Blade
Shaft
Carbon content
Total
Weight
(g/oz)
Surface area
(cm2/in2)
Length
(cm)
Width
(cm)
Stiffness*
(mm)
Blade
(%)
Shaft
(%)
Braca Polo Kinetic 735
(old size: max)

735/113.9

46.0

20.7

Hard 2.2-2.3

Medium 2.4-2.5

Soft 4.2-4.5
100
100
840/29.6
Braca Polo Kinetic 660
(old size: min)

660/102.3

45.5

19.6

100
100
810/28.6
* We recommend stiffer shafts for bigger blades and stronger athletes.